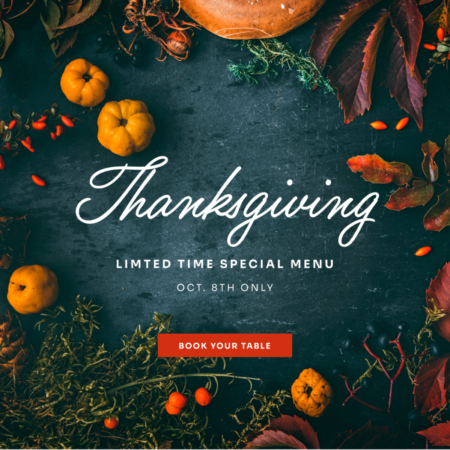 Special Buffet Menu: One Night Only – Saturday, Oct. 8th
You and your loved ones are invited to join us for a special Thanksgiving buffet this Saturday, October 8th. Seatings are $65 per person (tax & gratuity extra). KALOS will be open 12 PM to 2:30 PM, then again from 5 PM to 9 PM. Space is limited, reserve your table today!
Please note that our regular menu is not available during this event.
Buffet Menu
See below for the festive feast we have in store for you*:
STARTERS
Fresh Baked Breads & Rolls with Butter
SOUP
Slow Roasted Butternut Squash, Sage & Maple Cinnamon Crema
GARDE MANGER TABLE
Garden Salad Bar (Winter Greens, Spinach, Romaine) with Accompaniments & Dressings (Roasted Beets, Arugula, & Goats Cheese) | Pasta Salad | Dill Coleslaw |New Potato Salad | Smoked Salmon Platter, Dill, Red Onion, Capers, Boiled Egg, Horseradish Crema | Grilled Vegetable Antipasto, Balsamic Glaze | Local Cheese & Crackers | Peel & Eat Shrimp with Spicy Cocktail Sauce
HOT DISHES
Slow Roasted Buttered Ontario Turkey (Carving) | Turkey Gravy, Citrus Cranberry Sauce | Apple, Sage & Beer Dressing | Yukon Mashed Potatoes | Bourbon Sweet Potato | Honey Heirloom Carrots | White Turnip with Carraway & Sage | Green Beans, Brown Butter, & Almonds | 24-Hour Smoked Top Sirloin Beef, Horseradish Herbed Jus (Carving) | Yorkshire Pudding | Atlantic Salmon Fillet with Cognac Cranberry Port Gastrique, Tarragon, Goats Cheese Crumble | Vegetarian A La King Puff Pastry
DESSERTS
Variety of Cakes, Gateauxs, Squares, Tarts, Cookies, Fruit, Pumpkin Pie
*Menu subject to change without notice. Available while quantities last.